Meet Your Teachers

STAFF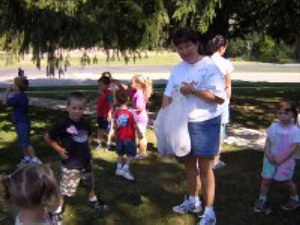 Miss LeaAnn teaches the 3 year old classes.
LeaAnn is an excellent teacher full of energy and ideas.
Miss Eydie is aiding in the morning and teaching the
4 year old class in the afternoon.
Eydie is a very caring and dependable teacher.
She is always ready to give of her time and talents.
Miss Donna teaches the 4 year old class in the
morning and aiding in the afternoon.
Donna is a very sweet and loving teacher who
enjoys working with the children.
Miss Sara continues serving as our director and
teaching the 4ís in the morning and 5's in the afternoon.