Class Happenings!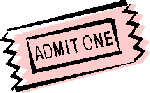 The World's Greatest Cardboard Circus is coming to Preschool!
During the first part of March we will be continuing our circus activities. After discussing the circus we'll begin learning about different animals, where they come from and if we'd find them in a circus. The children will make elephants and lions which will decorate our ceilings and walls. They will be painting cardboard boxes to be worn at the circus, such animals as the lion, tiger, bear, elephant etc. We have several circus games the children will enjoy and lots of circus activities.
On Thursday, March 9th we will be having our circus rehearsal and on Friday, March 10 we will have our circus! The World's Greatest Cardboard Circus will begin at 10:00 am for the morning classes and 1:30 pm for the afternoon classes. Everyone is invited to come. If you get a chance try to come. The children are so priceless and adorable! We will sent more details soon!